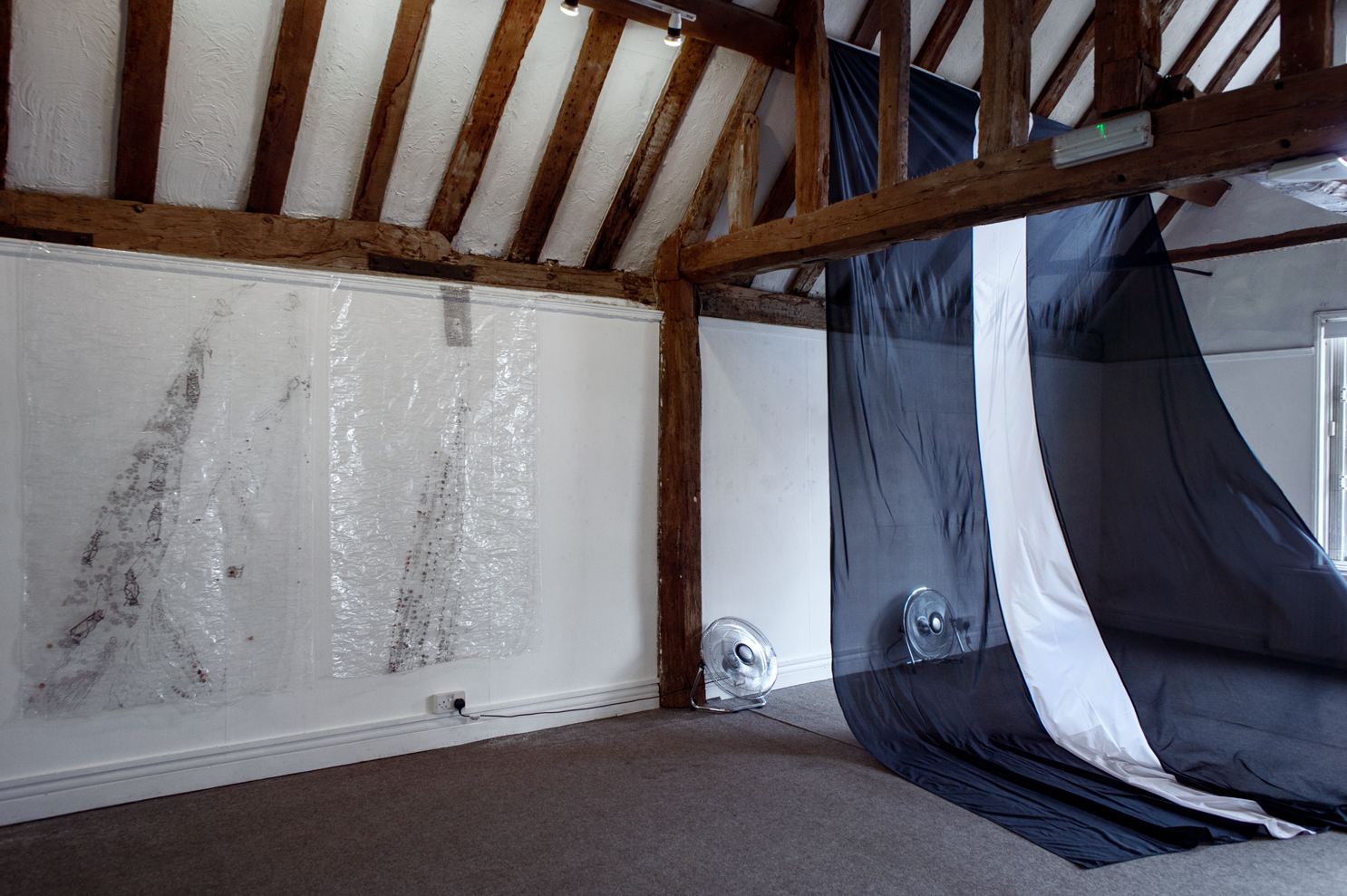 'New Magical Realism' curated by Micha Eden Erdész

https://www.a-n.co.uk/reviews/new-magical-realism/

Supported by the City of Munich

September 7 - 30 September 2019, The Minories Galleries, Colchester School of Art, GB

Fia Cielen, Anton Cotteleer, Tim Dodds, Micha Eden Erdész, Evelien Gysen, Jef Gysen, Andrea Hanak, Besmir Latifi, Alex McLean, Elke Lutgerink, Aleksei Kazantsev, Warre Mulder, Anna Sokololva, Angela Stauber

Some in Great Britain in 2019 are uncomfortable with European membership. Likewise, Colchester in Essex in 2019 is a 'city' uncomfortable with its rebellious history of Boudicca against a backdrop of Roman power. The pan-European artists of NMR were charged with the metaphor of rebelling against a perceived threat of European federalism through the genre of Magical Realism.

Artists explored a tension, life and approach to a subject matter between the Magic and Real. Spanning two-floors of the Minories' Grade II Tudor site, these artists critique realities as they know how, by sharing in the invocation of magical alterity. This is an artistic kind of interference to shift a perspective of this world for aesthetic, political, ideological, religious, provocative or ameliorative ends.

Much like our current political stage, Margaret Atwood's Zenia is an image reflected in a smoky mirror, whose multiple and 'forever shape-shifting character functions as a catalyst for new and re-emergent traumas.' (Vickroy cited in Bouson 2010: 23) As are the subjects adopted by these artists tasked with particular ends, Zenia's character is eclipsed by Atwood's tasking of her with the communication of subversive Magical narrative forces.



Supported by Stadium Capital Holdings, Arsenal Regeneration Team, Florence Trust, Royal College of Art, Institute of Ideas, The Big Draw, Targetti, Howden, ADI Solutions & Audiovisual, Ham and High, Hackney Gazette
'The Liminal Phase', co-curated by Micha Eden Erdész

The Liminal Phase is the inaugural exhibition in a series of art events both marking one of the largest regeneration projects in London and seeking to establish Holloway as an artistic centre. A thread of regenration runs through each project whose 12 artists have been asked to scale up their exisiting practices to function in a 13 000 sq foot retail unit. The Liminal Phase is a window in which artists can respond to a dynamic environment on the verge.

13, 000 sq ft commercial space Hornsey St, London, 6 October - 3 November, 2006

Balint Bolygo, Julie Cook, Robert Currie, Micha Eden Erdész, Rebecca Jewell, Ian Johnson, Xavier Pick, Matty Small, Sarah Strang, Gerald Straub, Gavin Thorogood, Slobodan Trajkovic, Thomas Wilkinson

PRESS

'World of liminal moments deserve a second look: A uniquely temporary exhibition in Highbury celebrates what is gone in an instant' by Alison Oldham



When used in the psychological sense, the word liminal from the Latin for threshold" refers to the point beyond which a sensation becomes too faint to be experienced. But there is little danger of anyone failing to register the visual and emotional impact of the art in The Liminal Phase, an exuberant exhibition at Highbury Studios, Holloway. Liminal is used in the title to convey several ideas that the vast space occupied by art for just one month is destined to become commercial units, that it's hoped some ideas will be realised as public art projects and that the artists involved are interested in different kinds of liminality. Co-curator Micha Eden Erdész had the excellent idea of asking artists to magnify their practice - make large versions of their work for the ground floor of the apartment block opposite the new Arsenal stadium. Many exhibitors have been artists-in-residence at the Florence Trust studios at St Saviours Church, Highbury, whose director Paul Bayley describes the work as Florence Trust on steroids, Co-curator Rebecca Jewell shows charcoal drawings of carvings of demigods from Papua New Guinea and Easter Island which are in store at the British Museum where she has worked for 20 years. She depicts each object with a label to suggest that its stay in the archive will be a part of its history along with its past in the country of origin and future as a museum exhibit. Xavier Pick shows 70 of his obsessive sketchbooks in tall wall-mounted glass cases. Virtually every day for the past 15 years he has recorded in acrylic, watercolour, Tippex, emulsion paint or whatever comes to hand, scenes from his life and journeys, interspersed with written descriptions, sometimes transcribed in circular patterns. The books have been a passport to many worlds, a living portfolio for others to see who you are, he says. For the last few years I have been immersed in London the nightlife, the backstreets and rooftop views.The sketches range from picturesque Primrose Hill to brutalist Battersea power station. Matthew Small was born, lives and expects to spend his life in Kentish Town. He has an insiders viewpoint on the area and savours aspects others often don't. His new paintings are studies of children with suggestions of their tough environment playgrounds and the flats around them. Small uses household paints, found pieces of metal and other recycled materials. Concrete pillars in the north part of the space are dressed with white-padded fabric appendages with a soothingly medicinal air by nurse-turned-artist Julie Cook. The south part is dominated by Robert Currie's towering square construction formed of shimmering videotape and inventive kinetic sculptures by Balint Bolygo, one of which scribbles maniacally on a pillar. Sarah Strang reaches out beyond the building to challenge those using the Holloway Road with a billboard asking How do we interpret the value of the plan for this space? Urban regeneration would, if Micha Eden Erdész had his way, involve visual artists at the planning stage. The Liminal Phase opens daily from 11am-7pm until November 3 at 5-7 Hornsey Street.